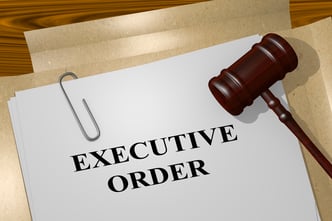 The new Administration is off to a running start, as Wednesday saw a flurry of Executive Orders come out, many of which deal with climate change, and the oil & gas industry. There are a lot of items, and they are all pretty detailed with substantial backstory, but we are going to try and briefly touch on the three major items relevant to the industry and quickly go over the main points (or, try to at least!)
So, here's the recap:
Keystone XL: The Biden Administration cancelled the permitting for the Keystone XL pipeline, an $8 billion dollar project that would run over 800K barrels per day from Canada through the United States. Specifically, the pipeline runs from Alberta to Nebraska, where it would then hook with existing pipeline infrastructure running to the Gulf Coast refineries. There seems to be no recourse for TC Energy to fight the permit cancellation per se, the only major sway could theoretically be if Canada argues on behalf of the project continuing but according to analysts, that will be a non-starter, Trudeau is extremely unlikely to broach the subject with the Administration amid attempts to smooth a relationship between the two countries that was somewhat fractured during the prior administration's tenure.
Moratorium on Federal Oil & Gas Leasing: Another executive order has put a moratorium on the lease of any federal land or offshore waters for oil & gas development. The order also stipulates that current permits in effect be reviewed against the new standard, presumably to see if some additional will be cancelled. The Administration has a stated aim of "protecting at least 30% of federal land and offshore waters" as a general goal, and the moratorium appears to be a part of that aim. Currently, fossil fuel leasing on Federal land accounts for approximately 25% of carbon emission output, which is the impetus for the move. However, as others have pointed out, the leasing also provides around 8.1 billion dollars annually in tax revenue to tribal, state, and federal governments. 22% of oil production, and 12% of natural gas production takes place on federal lands and although this moratorium does not affect current operations (yet) there is some concern that a move toward stopping production on federal land, which is the possible end goal, would push the US back into becoming a net importer of petroleum as the economy continues to recover and demand begins to increase. However, its important to note that states have wildly disparate levels of reliance on federal land for production - New Mexico is largely federally based, whereas even a complete halt would not affect Texas very much, as production land is almost exclusively privately held. This is a watch-and-see item for sure, as no one is really clear on the end goal or next steps on this item yet.
Paris Accords The Biden Administration has additionally rejoined the Paris Climate Accord, which the prior Administration withdrew from last year. The US, under President Obama, played a major role in crafting the Paris Accord in 2015. The agreement overall aims to keep global temperatures from rising no more than 2 degrees Celsius (ideally 1.5... we are already up 1 degree) by way of reducing greenhouse gas emissions. The agreement is essentially an international treaty with almost 200 member countries who have pledged to take various steps to curb emissions in their respective countries. There are a million details within the Accord, but for the US the actions required include (among others) cutting emissions by 26% below 2005 levels by 2025, tightening fuel economy standards, and would also heavily rely on the "Clean Power Plan" to hit targets. Rejoining the Paris agreement is an important symbolic gesture for the Biden Administration, as one of the major focuses they will have is "putting climate at the center of domestic, national security, and policy"
So those are the major points relating to the industry from Wednesday, and they are definitely items we will continue to follow and update on. It will certainly be interesting to watch how these unfold and shape the energy industry landscape over the coming four years. Stay tuned!