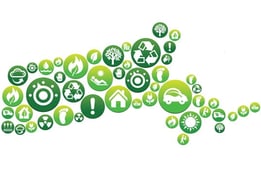 This September, the Commonwealth of Massachusetts awarded competitive grants to 91 municipalities across the state to the tune of 14.9 million dollars, at up to 250,000 per municipality. The grants allow cities to fund renewable energy projects for the community that help MA move towards its clean energy goals.
This is the largest single year payout for the program, which has paid out over 100 million in project grants since 2010.
To obtain a Green Communities designation in Massachusetts, the community must pledge to reduce municipal energy consumption by 20% within 5 years. The project and its grants have allowed cities to offset the costs of energy efficiency projects like weatherization, LED streetlights, heating system conversions, EV charging stations, and EV fleet vehicles. This is beneficial for both the community running the project, and for the State energy efficiency levels overall. Massachusetts is the most energy efficient state in the union and is looking to hold on to that designation.
If you want more background and info on the Green Communities program and grants, I wrote an article for the October issue of Oil & Energy Magazine on the program that you can read here: Massachusetts' Green Communities