Main energy topics in the headlines for 2014 include the Crude Export Ban, the Keystone Pipeline, the Climate Change Action Task Force, RFS Volumes, and an expected final ruling on the Tier III mandate from the EPA.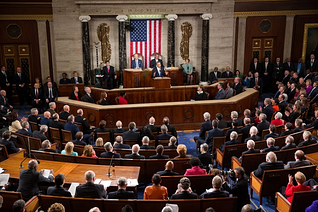 (Photo Credit: Amanda Lucidon, WhiteHouse.gov Official Photo)
There is a lot of work to be done on energy infrastructure in the US - something that became especially clear with record breaking spikes in Natural Gas pricing to the New England and New York markets on the heels of the Polar Vortex. This topic is supposed to be the highlight of the Administrations Quadrennial Energy Review. However, the most obvious energy infrastructure and transport improvement - the Keystone XL pipeline is still bogged down in its 5+ years of paperwork, with no decision in sight, even following the most recent Environmental Study which found there would be no major negative impact environmentally from the project. The State Department review was expected after the President's State of the Union Speech, with a Presidential decision to follow but so far as of late February we haven't seen any movement on the issue.
Renewables are also on the table - The EPA's expected final RFS volume reductions should be out this month (the first time the EPA will have used waiver power to decrease, not increase, volumes). The tax credits for Biodiesel and Cellulosic Biofuels also expired at the end of 2013, but if you recall, last time these were reinstated retroactively. The EPA is also expected to release its final ruling on Tier 3 Gasoline Standards, which would affect the sulfur content of gasoline vehicle emissions.
I wrote a more comprehensive article for the February issue of Oil & Energy Magazine on the topics on the Energy Agenda for 2014, you can read that article by clicking here
What do you think the priority items on the Energy Agenda should be?