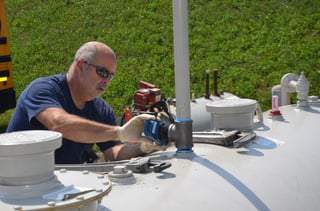 There have been so many technology advances in the past 10-15 years that have helped streamline industry operations immeasurably. From cloud based CRMs, to updated financial systems, to e-logs, to TABs interfaces, so much of the background work that used to take hours of manpower and resources now runs automatically, or at least semi-automatically.
Perhaps the best win-win tech advancement however, in terms of streamlining and simplifying an issue for both the company and the customer, is the ability to use cell technology for remote tank monitoring. For dispatch, theres no more guesswork but automated alerts, continuous level monitoring, and the ability to easily report on and plan for customer usage patterns. For the customer, there's no more sticking the tank, no more calling in orders, and no more running out of fuel.
What's better than that?
There are a lot of different systems for tank monitoring, and lots of questions about it. So, this month I wrote an article for the September issue of Oil & Energy Magazine on how we use specific remote tank monitoring setups to streamline our customers fuel inventory management as well as our dispatch operations.
You can read the full article here: "Better Tank Data Drives Better Fuel Management"
Any questions, feel free to give us a shout.