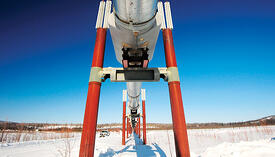 In a surprise move Monday, TransCanada issued a request to the U.S. State Department that they pause the ongoing review of the project until the legal challenges in Nebraska are settled. (Interestingly and somewhat ironically, this is the exact same reason Secretary of State John Kerry gave for why the review was taking so long when asked last year.)
The project that we've all been debating for the past several years was looking at a likely rejection from the State Department and the prevailing theory is that TransCanada would like the review process to linger on, in the hopes that the proposal lands in front of a more friendly Administration in 2016, after the Presidential Elections.
The White House put forth this same theory, that the petition was a play to get a more friendly administration to rule on the project and spokesman Josh Earnest said the White House will summarily dismiss the petition for that reason.
TransCanada denies there is any politics at play. Even if it were political, however, the political moves are certainly not one-sided.
The reason cited for the timing of the petition is because Obama is expected to veto the project ahead of the upcoming UN Summit in Paris on Climate change, in order to make a statement on the U.S.' commitment to battling Climate Change. Not an apolitical move in and of itself, no? (In fairness, it has become pretty clear that the President intended to veto no matter what the timing was.)
The Keystone projects' prominence in the political realm had substantially faded in the face of tumbling oil prices but the issue has come up again with the beginning of the election cycle, with Presidential Candidates on both sides being asked their positions on the project in interviews and debates. The bid from TransCanada this week only added fuel to that fire.
Whether the move was political, or simply meant to re-raise the issue, it most certainly puts pressure on the Administration to make a decision. That can't be exciting for the President. One would think he would rather pass it on to the next person anyway and avoid both the gains and fallouts politically from making the decision.
It will be interesting to see if the veto comes down before Paris, or if the project trudges on longer and longer despite a refusal to pause.