As we mentioned, futures markets traded in a wide $.20 range for the last month and we are just about back to where we started on May 1st. Recent drops center primarily around a pending agreement on the National Debt Ceiling which is expected to roll through the Houses in the coming days. More importantly to take notice, is that we have shrugged off the huge inventory losses last week and focused more on Chinese demand. Reports that China's manufacturing Index fell ½ percent signals the global demand for products and fuel may be slipping. Domestically, notes that the Labor market remaining tight may hint that the FED may lift rates in the coming week one last time. And we might see a bump in Inventories this week unexpectedly as reporting can often get skewed around holiday weeks. We are also seeing Canadian Oil fields restarting after being shut down due to wildfires.
There is always a vast array of news and factors that move the Oil complex. Most of which is already 12 to 24 hours old by the time it gets reported on in the mainstream media. It is important to have a trusted source that can offer a clear and unbiased picture of what has, and what is happening. It doesn't matter if you're a small landscaper, midsize trash company or Large National Fleet, DKB strives to be that trusted source for you and your business. In a recent survey of Trucking Fleet Managers, pricing and supply of fuel, reclaimed the number one issue facing their Industry. With the countless other issues you have to deal with operating a business, I am sure we can assist you navigate the road ahead.
My overall sentiment for pricing remains neutral for the coming weeks. OPEC, FED, JOBS(demand)… those appear to be the big market movers on the horizon. With the outer months relatively flat, it may not be a bad idea to look at Q1 and Q2 fixed pricing for a portion of your needs.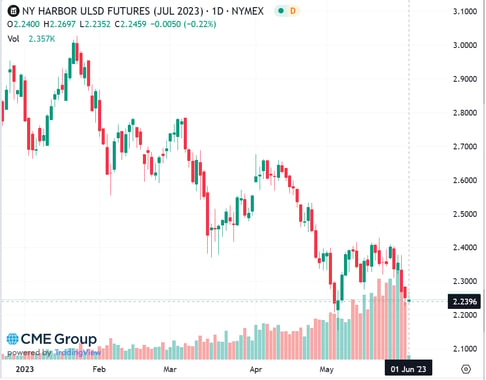 Read More