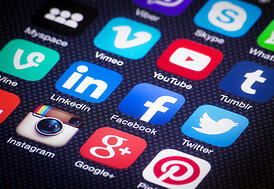 Spoiler Alert: The answer is YES!
Are you using Social Media for your business?
Admittedly, running social media accounts for your job or company isn't always fun. It sometimes gets tricky to make sure you're keeping the company voice consistent and professional across platforms, and not allowing personal use/views/posts to cross into the "work realm".
However, on another level - it opens up channels for interacting with your customers, prospects and employees to interact with and (hopefully) support your company. You can see some really cool stuff that customers and prospects are up to that you might normally never hear about.
When it comes down to it - social media on both the business and personal fronts is about relationship building and maintenance. And since the launch of social media, companies of all sizes have gotten a more human face and persona, and on some platforms, social media presence holds companies accountable to keeping customers happy. Isn't that the ultimate goal anyways?
I wrote an article for Oil & Energy Magazine this month about using social media to build relationships and garner opportunities for your company. The article details which platforms are better for what types of interactions, and some basic tips on running your business social media sites. You can read the article here: Oil & Energy Magazine: Social Media Offers Opportunities