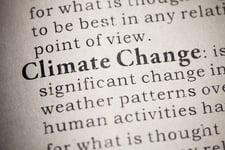 On Monday (August 3rd), President Obama unveiled his latest initiative to combat Climate Change, in the form of new proposed regulations on power plant emissions. The plan would reduce emissions from power plants to 32% below the 2005 benchmark levels by 2030 (by 870 megatons). This is the first time federal limits on this type of emissions would be enacted, and the EPA's Clean Air Act is cited by the administration as allowing for said federal limits.
From the EPA press release on the new regulations:
"By 2030, the plan will cut carbon pollution from the power sector by nearly a third and additional reductions will come from pollutants that can create dangerous soot and smog, translating to significant health benefits for the American people. By 2030, emissions of sulfur dioxide from power plants will be 90 percent lower and emissions of nitrogen oxides will be 72 percent lower, compared to 2005 levels"
(You can read the full EPA Press Release here: EPA Newsroom )
The estimated cost of the program is $8.4 billion annually, according to an EPA spokesperson, and the benefits are projected to be between $34 and $54 billion per year, including health benefits.
Under the rule, individual states must draft and adopt compliance plans by 2018 and meet initial projected targets by 2022.
Industry groups and officials are obviously not thrilled with the new rule, citing potential billions in infrastructure costs associated with moving away from coal power generation. Additionally, the plan includes a target of the US generating 28% of its power via "renewable" sources versus the current 13% level – this does not include natural gas, and further complicates how exactly states and utilities can make changes to hit these targets.
The earlier draft in 2014 included more assumptions that the move would be from coal to natural gas (which generates around a 50% reduction in carbon emissions), this ruling in that regard is even more cumbersome, with the additional costs and difficulty of going from coal to wind, solar, or nuclear – when it's already expensive to go from coal to natural gas.
Critics are citing this as another example of the "War on Coal" and Legislators from coal heavy states cite job and revenue hits they believe the new rule will cause. Some Attorneys General have already signaled they are filing suit, arguing the rules go far beyond the Clean Air Acts provisions, and some states have declared they will refuse to follow the guidelines. Of note however, is that recently the Supreme Court ruled in favor of the EPA re: the Clean Air Act and methane regulations, and it may very well do so again on this case.
We shall see - stay tuned!