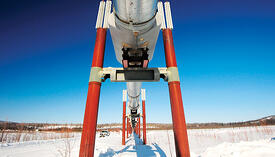 National Grid announced Thursday that it is proposing to raise electricity rates by 37% starting November 1, with other utility companies to follow suit. The rate increases are not a profit but a response to the increased cost to the utility companies on the wholesale market. National Grid cites that the price increases are a result of New England moving to deriving more and more electricity from Natural Gas, without the region investing in any supply expansions. Today, the proposed rate hike was approved.
So what does the rate hike mean for you? The average residential customer in MA is looking at a bill around 40 dollars higher monthly (assuming similar usage year-on-year)
So whats going on, why is electricity spiking like this?
It's all about Natural Gas supply.
The supply crunch we saw with Nat Gas in the region last winter forced many power generation stations to run alternatively on oil or liquid gas for generation, which costs more. Given the polar vortex dominated winter we had this past season, and the lack of any forward progress on infrastructure improvements, it makes sense that rates are skyrocketing in anticipation of another cold season.
Then why isn't my natural gas heating bill going up? Basically, long term contracts versus spot pricing – natural gas often gets locked in over longer periods, so it doesn't necessarily hit you in the wallet right away when prices bounce.
There are supply solutions potentially on the horizon, but even if approved it would be a couple years before they were fully operational. Two vying pipeline options are being proposed to relieve the Nat Gas supply pinch in New England. The first is Kinder Morgan's Proposal, the Tennessee Gas Pipeline Northeast Energy Direct Project. T he Tennessee pipeline would be through Pennsylvania and Upstate NY, then run through Massachusetts from Richmond on the NY border to Dracut on the NH side. It would run 177 miles, with a 3 foot diameter.
On the other side, Spectra Energy & Northeast Utilities are planning to expand pipeline access to New England on the existing Algonquin pipeline, which will terminate in Everett (right outside of Boston). The project would replace the existing 26 inch pipeline with a new 42 inch one, essentially along the same route it already takes, but the expanded diameter and system upgrades would result in higher yields.
Senators Markey and Warren are both appearing to oppose the pipelines, and many activist groups are also protesting any pipeline expansion ala "not in my back yard"……. but the question becomes - if we dont upgrade the infrastructure to allow more nat gas to flow, aren't we condemning ourselves to continually increasing rates and supply problems? Probably.
One irony of the pipeline protests is that as a region, we'e moved to Nat Gas over environmental concerns (ie replacing coal fired plants). And although there may be some environmental concerns with pipelines, the lack of supply during cold snaps means that power plants etc have to burn other fuels for electricity generation which both drives up cost, and has its own environmental impact. Essentially, the spike in reliance on natural gas for power generation (versus heating) is a result of closing power plants in the region based on their environmental impact - notably the Somerset Station (coal burning) a few years ago, the Salem Harbor Station (coal burning) closed this year, and the planned shut down of Vermont Yankee (nuclear).
The bottom line is the power has to come from somewhere, and with New England counting on over 60% of our electricity generation coming from Nat Gas sources, we've really painted ourselves into a corner.