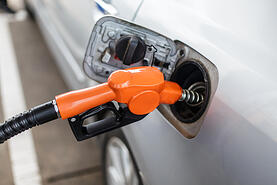 A number of start ups are seeking to replace your trip to the gas station with the tap of an app. Much in the same fashion you would use a ride share service, or a mobile glass replacement service, these apps would allow you to request a fill up via smartphone from your home, office, or wherever is convenient.
Two models in play currently are a weekly service based on a monthly membership, or essentially "touch fueling" cars (instead of 18 wheelers or equipment) on larger business campuses.
These types of start ups are still in the early stages, despite initial success. There are a lot of questions on how successful these types of apps would be nationally, as local regulations and variances could vary widely, as would requirements for drivers - getting approval in Dallas TX may be different than doing so in Cambridge MA, for example.
I did an article for Oil & Energy Magazine this month running through the basics of these new apps, two of the successful early companies running them, and what types of integration with vehicles we may see in the future. If you'd like to read the article you can do so here: "Fill Your Car's Gas Tank by Smartphone"