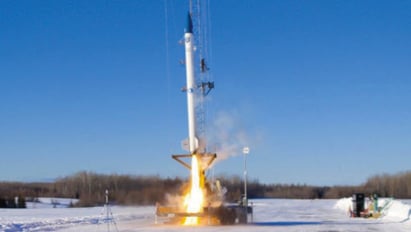 Maine-based bluShift Aerospace successfully launched and landed the first commercial rocket powered by biofuel on January 31st of this year. Not only did the rocket successfully launch running on bio, but it did so at a staggering -14 degrees fahrenheit!
The rocket runs on a proprietary biofuel created by bluShift's founder, Sascha Deri. The fuel is cheaper than standard petroleum derived rocket fuel, is non-toxic, and is close to net-zero. The performance of the rocket in the frigid January temperatures in Northern Maine is a critical component of success as well - biofuels notoriously have cold flow issues that can be an impediment to some applications. If that issue is off the table, the option opens up for their use in arenas like satellite placement, etc.
The success the launch is seen as a hopeful step forward both for the application of biofuels in space related avenues, and a step forward for "Spaceport Maine" becoming a reality in the future.
I wrote an article for Oil & Energy magazine on the bluShift Aerospace launch, if you want more info on this launch, the planned upcoming launch of Stardust 2.0 and the Spaceport Maine concept - you can read it here: Running Bio at -14 degrees and Zero G