On October 29th, Hurricane Sandy slammed down on New York and New Jersey, leaving a wake of destruction in its path, including demolished houses, flooded subways, and thousands of families without power. In the immediate aftermath, Dennis K Burke began dispatching fuel trailers to help support utility vehicles responding to the widespread power outages in New York and New Jersey. Shortly after, we responded to FEMA's need for operational support refueling emergency vehicles. In New York City, the focus was on FEMA refueling operations for light towers, generators, heaters, and mobile command centers.
Several of our dedicated drivers were in it for the long haul, working countless hours, sleeping in their trucks at the FEMA command centers, refueling critical locations to support the storm recovery. They worked all day and night, powering up generators for local police stations, fueling the Army and National Guard response vehicles, and delivering to LaGuardia and JFK International Airports to support ground and emergency equipment. Our drivers were fueling generators that powered local housing complexes and tent cities, and providing fuel for huge dewatering pumps to work at clearing the flooded subways.
We could not have been more honored and proud to take part in the recovery effort. Our hearts go out to all the families and individuals impacted by Hurricane Sandy, and we look forward to continuing to support their efforts at rebuilding their lives and their communities.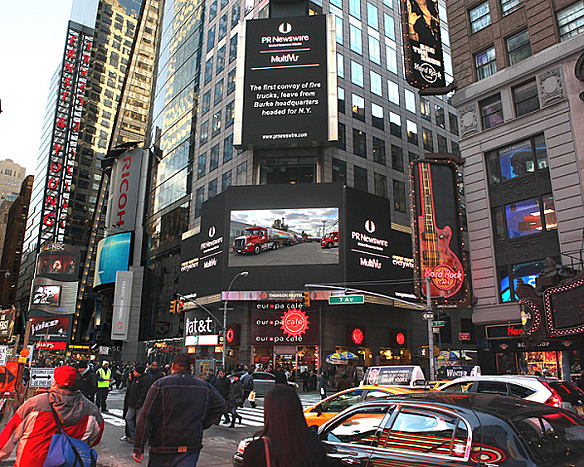 (Photo Courtesy of PRNewswire, Burke Relief Convoy leaving Chelsea MA Headquarters on display in Times Square)