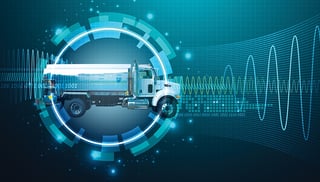 Let's face it - innovation is often driven by either a desire to control costs, or a refusal to accept inefficiency. Often, it is both. Its hard to beat smart solutions that both control costs and allow for greater efficiency and productivity at the same time. In our unending quest to make things as efficient as possible, we've tried out and expanded tons of different systems for everything from financial data, to e-logs, to payroll, to website visits.
One of the biggest "bang for the buck" tools we've integrated into our daily business:
Tablets.
I can not say enough great things about our decision to move our drivers and dispatching to a tablet based system. Our tablet apps integrate mapping with GPS, so drivers can automatically track and then e-file their daily logs, and vehicle inspections. This saves mutiple hours per week, not even counting the time (and frustration) it saves in the office not having to sort, cross reference, and store stacks of paper.
The GPS tracking also enables us to easily file miles-per-state reports per IFTA regulations - instead of a driver writing out miles per state every day we simply run a report and file.
Integration allows dispatch to more efficiently assign loads, and automatically ensures that they have up to the minute information on the drivers hours of service so we can easily ensure compliance.
Drivers also use their tablets to punch in and out, so payroll flows seamlessly from the app to HR. No more calling in hours, missed punches or snafus with vacation scheduling, its all handled within the apps.
I wrote an article discussing tablets as well as a few other cost saving technologies we've employed that had additional time savings, insurance savings, etc (such as our phone apps). You can read the article here: "Controlling Costs and Staying Competitive" - you can read more about our cell phone app system here as well: "Want Safer Drivers? There's an App for That"