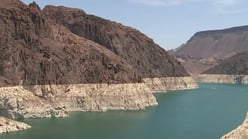 Over 70% of the American West, Southwest and Northern Plains has been categorized as a D3 (severe) drought or higher since June. In October, the US Bureau of Reclamation issued its 5 year projections for the Colorado River, which serves 40 million people in the American West. Projections help management consultants better plan for future demands and determine allocations appropriately based on the data.
Ongoing drought conditions in the region have led to drastic and unprecedented changes in water allocations. These cuts in allocation have devastating implications for regional farmers and ranchers, their livelihood and the commodity markets their products determine pricing versus demand for more broadly. It also complicates the clean energy picture, as hydroelectric plants (which produce 40 billion kwh of energy for millions of homes and businesses in the Western region) become not only unable to enhance capacity, but become less able to meet current loads and meet demand.
Additionally, the continuing drought conditions and their impacts are a concerning sign for what is to come with climate change. Lake Powell & Lake Mead are the largest man-made reservoirs in the country, and their levels largely depend on snowpack conditions in the region. Warmer temperatures and drought conditions have caused both to dip to historic levels as well as causing a first-ever water shortage on the Colorado River. Should levels continue to drop, downstream states could become unable to access water downstream from Lake Mead and the implications of that would be devastating.
In 2019 seven regional states along the Colorado River signed a plan to prop water levels up, and portions of the infrastructure bill passed at the end of 2021 address ongoing concerns and provide funding for infrastructure improvements in the Western region to at least forestall the worst potential longer term impacts.
I wrote an article for Oil & Energy magazine that goes into more depth on the specifics of the problem, as well as how the infrastructure bill will attempt to address concerns. You can read that article in its entirety here: Drought Relief for Western States