Boston based Vanguard Renewables, a pioneer in the food & dairy industry waste-to-energy space has been acquired by BlackRock for $700 million dollars, with a plan to invest up to an additional billion dollars in the company's expansion, according to the Wall Street Journal this morning. The expansion plan reportedly focuses on commissioning up to 100 anaerobic digesters for renewable natural gas production across the United States by 2026.
We've written about Vanguard's projects in MA before, so this expansion is particularly exciting, and obviously timely with the push toward renewable natural gas we are seeing in the marketplace.
As a refresher, agricultural and food waste has been a continual issue in terms of both disposal, generated methane emissions, and waste forever. As part of the effort to address that, in 2014 Massachusetts banned disposal of commercial organic waste by businesses that produce more than a ton of organic waste per week. Organic waste was the second largest contribution to landfills in the State before 2014 and the ban served to divert that waste. But the problem became, well, divert it to where?
The solution that arose in the form of anerobic digesters is genius and has the potential to have a transformative effect on both natural gas production and the impact of the agricultural sector on climate. As a sector of the economy, agriculture contributes 11% of total carbon emissions, not including land use and other factors, according to the EPA.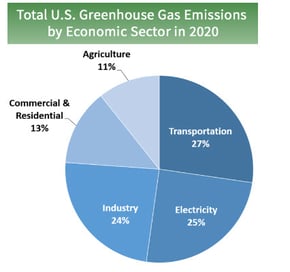 Anaerobic digesters take the methane and other emissions from organic waste (chiefly cow manure, but also food waste) and transform it into renewable energy. The process as a whole serves to divert food and animal waste, reduce odor, capture methane emissions, and produces organic fertilizer which lowers chemical usage. Additionally, the energy farmers produce can be sold back to the grid. It's a pretty perfect sytem. Extrapolated outward across multiple states, its pretty clear implementing this process would have relatively immediate and tangible impacts.
For more information on how the digester process works (and a focus on the MA site), read this article from Oil & Energy: Farm to Grid
For a more in depth look at the process and Vanguard's currently operational projects in Massachusetts, check out their website: Vanguard Renewables