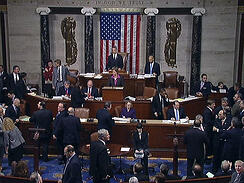 How will the 2014 Midterm Election results cause a shift in the Energy Agenda?
Keystone XL:
Prior to the midterm elections, Congress sent numerous bills to the Senate to push approval of the Keystone XL pipeline, none of which were brought to the Senate floor. That all likely changes with a Republican Majority Leader. Most likely we will see a vote happen on Keystone, and with Republicans controlling the Senate there are solidly enough votes to pass. Whether the President will sign it or not is up for debate, but in late October during a visit to Canada, Secretary of State John Kerry said he would like to "see a decision, sooner rather than later", maybe signaling that the President won't veto the bill once it hits his desk.
Crude Exports
Less of a change expected here with the party shift. Exports were expected to be a big consideration in 2015 regardless of party control. Republican Lisa Murkowski and Democrat Mary Landreiu were both expected to move the issue forward. As of this morning Landreiu is locked in a runoff contest, but Murkowski will be stepping up as Chair of Senate Energy and Natural Resources Comittee next year, and has vowed to push the issue on LNG and Crude exports.
Other Issues
Other issues that may come to the fore include addressing the EPA's proposed regulations on pollution generated from coal fired plants. This is probably too late to be relevant in the New England region, where we are seeing skyrocketing electricity costs and Natural Gas supply issues as a result of retiring older plants.
It will be interesting to see if other items come to the floor as the legislative session advances. Perhaps RFS issues, blendwall issues, or indications of a reversal of the prohibition of fracking on Federal Land. We shall see.