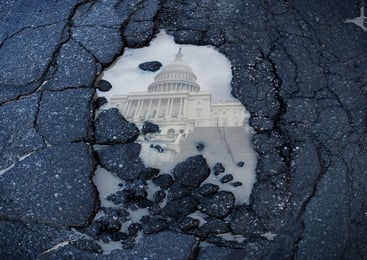 This past Friday, November 5th, the House passed a $1.2 trillion dollar infrastructure bill after weeks of legislative infighting, primarily between progressive Democratic members and their more centrist colleagues, in addition to the given squabbling across party lines.
At the end of the day, 13 Republicans supported the measure where 6 Democrats did not. Simply put, the moderate republicans & democrats a la Joe Manchin ultimately voted "yea" where "the Squad" went "nay".
Some of the more ambitious social spending related items were ultimately trimmed from the original proposal, including parental leave, $100 billion for workforce development, $400 billion to bolstering care for disabled and elderly Americans via expanded access to long term care services, $18 billion for VA Hospital modernization, and items regarding home health care worker pay levels.
Also conspicuously absent on the other side of the ledger – the proposed increase in corporate tax rate (from 21 to 28%) was scrapped, as were multiple tax hikes proposed to pay for some measures. Presumably, the social spending items that were ultimately trimmed from the Infrastructure package will be added to the separate 1.75 trillion Climate & Social spending bill (the so called "Human Infrastructure" bill) up next.
What's still included?
$110 billion for roads, bridges, and major infrastructure projects.
$11 billion for Transportation safety, including crash mitigation for cyclists.
$1 billion to reconnect communities divided by prior infrastructure projects, particularly in minority neighborhoods disproportionately impacted.
$39 billion to modernize public transport systems
$66 billion on rail infrastructure additionally, to reduce the Amtrak backlog and modernize the Northeast corridor.
$65 billion in Broadband Infrastructure expansion & improvement
$17 billion to Port infrastructure
$25 billion to Airports
$7.5 billion for zero & low emission busses and ferries
$7.5 billion for building out EV charger network
$21 to environmental remediation of Superfund sites, abandoned mines, and orphaned gas wells.
$55 billion to upgrade water infrastructure, including removing lead piping.
$65 billion to rebuild the electric grid
As mentioned previously, the passage of the infrastructure package from the view of those who work in utility contracting, electrical contracting, and other related union jobs (particularly in the Northeast) will be a huge boon to their members in terms of providing multiple long term projects, and thus multiple long term well-paying jobs.
One major variable to keep an eye on will be how much ongoing frustration and shortages along all facets of the supply chain, from manufacturing to delivery, may serve to push timelines on projects and ultimately slow progress forward on the outlined goals of the bill.
Stay tuned!