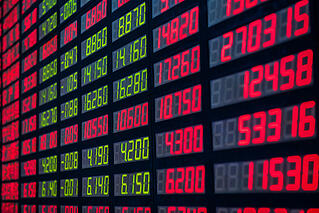 CRUDE, ULSD, and RBOB are all trending downwards today in tandem with the Stock Market, after a less-than-robust Jobs Report out this morning. The report showed that the US added 173,000 jobs in August, a relatively far cry from the 220,000 anticipated (hoped for?) by the markets and economists.
According to some analysts, since the official unemployment rate fell to 5.1%, the report is seen as potentially strong enough to push the Fed into following through with a September rate hike which accelerated sell offs. According to others, lackluster global economic signals are pushing the selling. I find the second assertion is more likely, but either way, the market looks poised to drop 3% on the week.
The past few weeks have seen wild volatility on Crude as well as the Stock Market. As the Wall Street Journal pointed out today - the close Tuesday marked 4 straight days of commodities trading with swings of at least 6% up or down in a row. For example, Monday for October closed up +.1101 on ULSD, and +.1020 on RBOB, then Tuesday more than erased those gains, closing out -.1233 on ULSD and -.1035 on gas.
With the production level battles still ongoing with OPEC between the so-called "Fragile Five" and the Saudi's which so far hasn't had any curbing impact on output, and a lack of any real bright spots in the global economy, it's more probable than not that we will continue to see serious volatility for the time being.
Stay tuned!
Read More