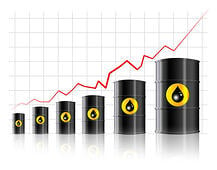 Another wild week!
Friday we saw March diesel settle at $1.0787 (a far cry from last Mondays $.09353!), and gas closed out at at $1.1031. Crude settled at $33.62/bbl, a rebound of nearly 25% from the prior week's 12 year lows ... but at the close yesterday, compared to Friday's numbers, diesel had shed $0.0678, gas was off $0.1023 and Crude settled below $30 once again, at $29.88.
Today we saw almost a full reversal on Crude and Distillates, with diesel back up within .0001 of Friday's number at $1.0786 (+.0677) and Crude back up to $32.28. Gasoline had a modest bounce back to 1.0137 (+.0129) after yesterdays $0.0822 tumble.
What's interesting about today's rally is that, at least in my humble opinion, it's essentially the rally that shouldn't have been.
Why? Because the EIA report this morning indicated builds that set inventory records for Crude and Gasoline. Crude inventories built 7.8mmb to 502.7mmb for the week ending January 29th. Gasoline was projected by analysts to build 1.7mmb but instead jumped a whopping 5.9mmb to 254.4mmb. Distillates drew down 777K barrels versus the 1.1mmb projected.
Most of the analyst chatter pegs today's gains on the weakening dollar (off almost 1.5% today as of writing), which can make commodities in general a more attractive proposition - generally speaking the two work opposite each other, when one goes up the other goes down. However, factoring in the last year, it's unlikely a non-precipitous drop on the dollar supports a rally of today's magnitude.
Another factor at play is the continuing rumors about OPEC and non-OPEC countries coming to agreements on supply cuts to bolster prices. Russia has indicated it would be willing to cooperate with the Saudi's on a coordinated approach, as has Iraq.
However, all of the production talk is just that - talk - which has worked for these countries in terms of short term price bumps, but until there is an actual meeting and agreement it's unlikely to have a long term impact.
U.S. Production is also down thus far in 2016, which may be a factor, since with OPEC keeping production ramped up, we become a "swing player" in terms of global (over)supply. The drop in production last week according to the EIA was 7,000 barrels per day however, not really a significant decline in the big picture.
Long story short, there are multiple factors that multiple sources are hanging their hats on to explain today's rally (myself included) but the overall market is likely to remain bearish, given inventory levels, weak global demand, and the lack of any real concrete indications that production cuts from oil producing nations are actually forthcoming.
Stay tuned!
Read More