Diesel Futures have risen just over $.25 in the last week, for largely the same reason as they tanked the week before. China is now lifting most Covid restrictions, as traders now see demand picking up on the world basket. Even though we are still seeing huge weekly swings, the overall temperature of Distillates looks to be cooling off since trading some $.75 higher than presently mid summer (see below).
Domestically, this week saw distillate demand still strong, which surprised some. Still might be some residual power plant use feeding those demand numbers. With Crude showing a huge increase in stocks this week, gaining 19 mmbls, one would have guessed it would have set the whole market downward. We mentioned that cold snaps, storms, and a pipeline reopening might need a week or two to shake out the inventories and traders took that to heart. Signs of moderating inflation figures have some thinking the doom and gloom of a full blown, long term recession, might be over done and we are in for a "soft landing" or a purposeful slowing down of the economy.
Futures are currently on the upswing of the curve, but again, the pattern suggests a sharp pull back. The backwardation in diesel futures is still hanging around, actually widening in the last several sessions, making some suppliers keep a watchful eye on inventories. As we work into the heart of the winter, don't be surprised if outages of distillates pop up. Again, a strong relationship with your supplier will keep your business running.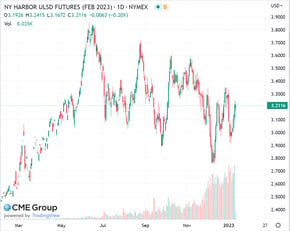 Read More