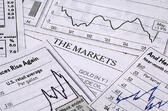 Oil was down today as the market weighed out OPEC speculation on one hand, and a drop in US Crude inventories on the other.
OPEC concerns seem to have won the day, given the drop in the face of an EIA report indicating a 3.4mmb drop (projections were 2.3mmb drop), some of which is presumably attributable to the Keystone pipeline leak & subsequent supply diversions.
Refined products showed builds of 2.7mmb on distillates, 3.6 mmb on gas. (projections were 230K and 1.3mmb, respectively).
OPEC is set to meet tommorow (Thursday) in Vienna to discuss extending production cuts through the end of 2018.
The current deal keeps 1.8mmb/day off the global markets via production cuts, and is set to expire in March but a new agreement would extend it through December. The running assumption was that it would be a no brainer to extend, but surprise, surprise, a few days out from the meeting and Russia had not yet agreed on anything. Thoughts are they may argue for a shorter agreement or push for renegotiation closer to the March expiration.
What does this all mean?
The assumption in the market currently has been that the OPEC deal extension is essentially "priced in" already. What that means is that failing a 9 month extension, we could see the recent gains evaporate rather quickly and see crude prices dip, with WTI falling back at or below the $50 benchmark, or even lower than that if there is no deal at all.
From OPEC/Russia's side of the aisle, an agreement on production cut extension to bolster pricing may be met with continued increase in US domestic production, which could both offset gains and damage their market share in the long view. That position is somewhat supported by rebounding US production levels & refinery utilization rates.
Last week we saw WTI close out at a high of $58.02, but it has receeded over the past few sessions, closing today out at $57.30. ULSD & RBOB tumbled today as well, with ULSD dropping .0286 to 1.9221 and RBOB dropping .0411 to 1.7309.
Stay tuned!
Read More