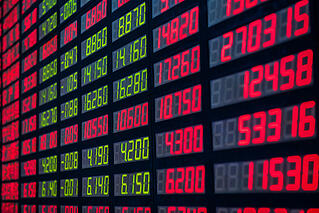 Stocks are getting pummeled today in anticipation of Fed Chair Janet Yellen's scheduled 5 o'clock speech on the economy and Fed policy re: rate hikes. (Deja vu anyone?).
Today Caterpillar announced that they will be both revising sales projections down and cutting 10,000 jobs by the end of 2018. That announcement is really crushing stocks, because Caterpillar is seen as an indicator of strength or weakness in the industrial and manufacturing sectors given their size and dominance in the sphere of heavy equipment. To the traders on the Street, less demand for Caterpillar implies fewer large scale construction projects coming online, which is obviously not good news for the economy.
Their announcement is also not a good sign for diesel usage increases, either, which we need in the face of oversupply and the resultant continually dropping prices.
On the other hand - first time jobless claims were up 3,000 to 267,000, not a bad job market indicator, and new home sales beat estimates, both of which are positive signs.
Ironically, what some analysts are saying is that these positive indicators signal that we can withstand an increase - and the panicked selling off is essentially coming from a concern about why we did not see the Fed move forward with the anticipated rate hike last week. If the market looks like it can accept it, then not passing the rate hike essentially implies the Fed is concerned about economic strength despite positive signs, and this is apparently making traders very nervous.
On the commodities side, the EIA report out Wednesday showed inventory draws of 1.9mmb on Crude, draws of 2.1mmb on distillates, and a build of 1.4mmb on gasoline. We actually saw drops at the close however, despite the inventory draws, with WTI settling at 44.48 for November (Brent at 47.82), ULSD for October delivery closed out at 1.5056 (-.0264) and RBOB was down (-.0348) to 1.3816.
Today, the NYMEX was mixed throughout trading - up on diesel, down on gas, neither straying too far from the open. At the close, ULSD settled up (+.0181) to 1.5237, and gas settled out (-.0164) to 1.3652.
Expect another possible crazy day tommorow, depending on how the Fed Speech goes, and how traders and analysts interpet its likely short term implications.
Stay tuned!
Read More