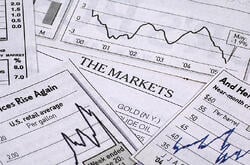 It's been a while, so while the markets closed today, lets take a quick look back at whats been happening (some "light reading for your Friday afternoon)
The economy -
After positive reports in February, the March jobless numbers released today were something of a dissapointment. Only 126K jobs were added, which broke a 12 month streak of 200K+ jobs per month being added. This raises some eyebrows on the state of the economic recovery but some analysts are blaming the extended winter, arguing that the normal pick up in seasonal and construction industry jobs is simply delayed because of the cold.
This lackluster jobs number, however, will once again probably have Wall Street see-sawing over speculations on the Fed interest rates, its probably unlikely to happen soon (I know, deja vu) given the weakness of the report. With the market closed today though we won't see what if any impact this will have until next week.
Commodities and Pricing
This weeks EIA report for the week ending March 27th showed Crude Inventories at record highs for the 12th straight week (+4.8mmb to 471.4mmb). Gasoline dropped 4.3mmb, way over analyst predictions of a less than 1mmb drop. We've seen stronger than expected demand in gasoline, particularly in January and thats sort of underlying its volatility at the moment - if you recall, RBOB jumped .0612 Wednesday on the report, but then pared the gains on Thursday, closing out -.0699 to 1.7613.
The main underlyer on the volatility over the past few weeks is more politically driven - we saw jumps on the NYMEX when it was announced that Saudi Arabia had begun airstrikes on Yemen. Additionally, the Iranian nuclear deal has some traders and speculators on edge, and continuing issues with ISIS and the ongoing strikes against them are keeping Middle East tensions higher than we'd all like to see. Luckily for the most part, days we've seen spikes on international turmoil have usually been reversed with a few days. It's likely this will continue unless there's some real movement or resolution on any of the aforementioned issues. Til then, hold onto your hats and enjoy the ride!