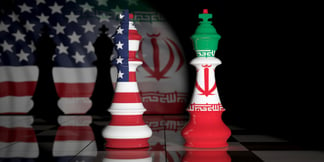 What a wild start to 2020 for the oil markets!
Friday saw morning trading jump ~4% on the Pentagon's confirmation that the United States had launched airstrikes and taken out Iran's top commander in Iraq. Prices gave back about half their gains during trading on Friday with the settle at $63.05/bbl Crude, $2.0614 ULSD & $1.7488 RBOB.
Gains continued to slowly pare off through trading Monday & Tuesday, for the most part.
That is until Tuesday night.
After a few day's of relative quiet (outside of Twitter, anyway), last night Iran commenced retaliatory strikes against the US by launching missiles at two US Bases in Iraq housing military members, as well as towards the US consulate in Ebril (the consulate was not hit). There were no casualties in the strikes.
Upon news of the missile strikes, the market shot up almost 5% on overnight trading.
Despite the overnights being up so sharply, by today's open when it was clear there were not massive US casualties (which would all but guarantee further action), the market was essentially flat and plummeted through the day as news updates became available.
Today's round of press conferences and news briefs indicated strongly that Iran was signaling that they would not retaliate further, and as of the moment the US position is apparently to de-escalate by working on sanction proposals versus further military strikes. Of course, both of these positions are subject to change at a moments notice, and it's entirely possible sanctions are interpreted by Iran as escalation, but for the moment we at least have some calm on the Iran/US tension front and hopefully that continues.
At the close,Crude settled out below $60/bbl again, at $59.61, ULSD shed .0742 to close at $1.9582, and RBOB lost .0734 to settle at $1.6488.
Stay Tuned!
Read More