After hitting yearly lows last week, Diesel pricing has risen over $.15 in the last week. As expected, bargain hunters typically buy in regardless of fundamentals. The increases have been muted somewhat as there is still that languishing fear that demand will fall off the proverbial shelf in the last two quarters. However, this weeks report showed that gasoline and diesel demand in the US remains somewhat strong, posting gains over last week and last year. While both products showed draws in inventories this week, and Crude showed a solid increase, that appears to more of a factor of less refinery production than anything else. Inventories for all appear stable with the exception of the SPR which is expected to begin repurchasing soon.
While recent Inflation numbers dipped below 5%, down for the 10th straight month, it is still much higher than the FED sweet spot of 2%. My sense is the street is correct and we will not see another rate hike in the coming months.
Gas will start to take the lead as the summer driving season kicks off and it will be interesting to see how Americans will act ahead of relatively unstable future. Moreover, how will the commercial sector be affected? Speaking with a number of Customers in various fields, most are "cautiously optimistic" about the upcoming months. Work is steady, pricing is palatable, but labor remains tough. DKB can assist with mitigating some of the uncertainty, please do not hesitate to reach out to discuss. Expect sideways price movements for the next week with a wide rage of $.20 on both products.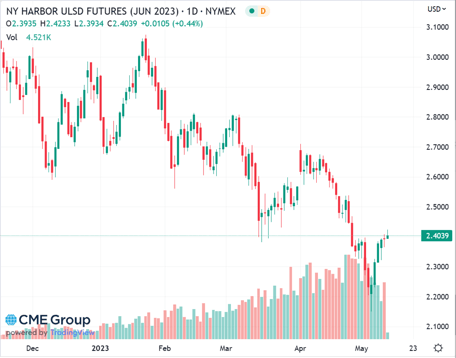 Read More