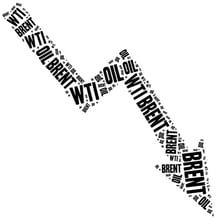 Oil & Refined products all plunged today on a series of events. Both Brent & WTI were down over 3% this morning, and by 2pm refined products were down over 11 cents.
At the close, ULSD was down .1178 to $1.8529, RBOB shed .1129 to close at $1.7499, and WTI Crude was $53.95, down from $58.58 at the close yesterday.
Yikes.
So here's what appears to be going on in a very basic nutshell:
The Federal Reserve announced a single rate cut of 0.25% versus the series of cuts expected to be coming down the road. The interest rate cut was expected to begin a series of cuts to shore up the domestic economy against global economic concerns about general weakness but evidently will be a one shot deal.
The dollar hit two year highs post Fed announcement, and oil crashed as a result.
U.S. supplies were down for July and OPEC production hit record lows (below 2011 levels) as a result of the OPEC+ deal, which normally would serve to boost prices, or at least hold them steady. However, global supply & output levels are still very high, particularly from the United States, and additional influxes from former member nations who opted out of the OPEC+ production cut agreements. (When combined, that's an offset of around 12mmb per day against the cuts by OPEC countries)
Finally, this afternoon, the Trump Administration announced abruptly that effective September 1, the US would impose a 10% tariff on an additional $300 billion dollars of Chinese goods. Not exactly helpful for allaying concerns about global trade, the global economy, or weakening demand, to put it mildly.
The announcement came out later in the day, so we will have to see how the markets shake out tomorrow - whether the demand concern seeming to dominate now holds out, or if we flip the markets the other way on overall economic concerns tariffs can raise.
As always, stay tuned & feel free to reach out if you have questions.
Read More