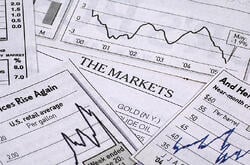 Friday saw oil futures tumble again to multi-month lows, with Brent settling at 48.61, and WTI at 43.87 for September. (ULSD closed out at 1.5436, and RBOB at 1.6230 ) on general concerns about the oil glut and dissapointing economic data from China.
Today however, commodities jumped, presumably on high import data from China and further rumblings from the Fed about an interest hike in September. Brent was up 3% ish to slightly over the $50 benchmark (50.36 for September), and WTI closed up to $44.96. ULSD settled up .0485 to 1.5921 and gas was up .0710 to 1.6940.
However, the analysts and talking heads of the world are cautioning that a sustained rally is unlikely, given that the oil glut concern lingers. Also, part of why prices tumbled so sharply last week (down over 6%) is that more rigs have come back online in the US, which only indicates that high output and growing inventory conditions will continue for the foreseeable future.
In a nutshell today is being essentially written off as an over optimistic jump off of Chinese import data, just another "dead cat bounce". We should see on Wednesday if they are correct when the inventory reports are released.
Stay tuned!
Read More