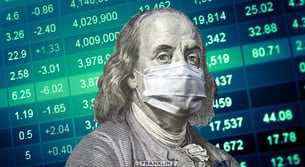 Final answers to lingering questions shot markets up today - Oil markets hit an 8 month high and the stock market soared, with the Dow breaking 30,000 for the first time. Airlines, Cruise Lines, and Energy stocks all pushed up on continuing positive news regarding a COVID-19 vaccination.
In intraday trading, WTI surged over 4 % to $44.80 (the last time we saw the $45 benchmark hold was in March, prior to both the Saudi/Russian price war and the expanding of COVID into a full blown global pandemic. In other words, its been quite some time. Who can even remember life before lockdowns started?).
Since November 9 (first vaccine announcement) Crude has gained ~15% and Brent is in backwardation, another positive sign.
ULSD & RBOB both traded up over .05+ the majority of the trading day. At the close, ULSD was up +.0490 to 1.3595 for December & +.0484 to 1.3642 for January. RBOB gained +.0542 for December to 1.2582, and +.0539 for January to 1.2510. Crude closed at $44.91/bbl - juuuuuuust under that $45 benchmark.
Earlier in the month (November 9) we saw markets jump on the announcement by Pfizer that they had developed a 90% effective vaccine. AstraZeneca and Moderna have also announced success on their iterations of a vaccine, one of which has the potential to solve some of the logistical issues regarding cold storage transport posed by the initial vaccine. Obviously, a vaccine means markets are hopeful that we will see a transition back to "normal" sooner rather than later, and the rally in industries particularly hammered by lockdowns, including air travel and general transportation would seem to bear that out.
The other factor pushing markets today is the official start of the transition of power to the Biden Administration. Given the legal challenges being raised by the Trump Administration regarding vote counts, there was substantial uncertainty around the transition, and if there's anything the market hates, its looming questions without answers. It seems that the clarity is boosting confidence.
Lest we get overly optimistic however, it's important to note that although vaccine news is good news - none of the vaccines announced have been approved for general use yet. We are also still in a surge of COVID cases right now and there is no timeline on when a large enough contingent of citizens will be vaccinated in order for restrictions to begin easing. Goldmann Sachs & JP Morgan have revised economic expectations due to surging, New York City has closed schools again, and even in Massachusetts we are seeing field hospitals being reopened to handle expected increases in cases. All of this to say while today was great for 401(k)s, it is probably premature to be overly optimistic about the next few weeks to months.
Despite all the craziness of 2020, we're Thankful to be here still working for our customers. We hope you have an amazing and relaxing (social distant) Thanksgiving. Enjoy the long weekend!
Read More