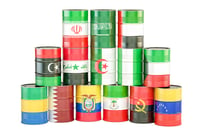 Last month, the OPEC+ decision to stay the course on previously announced production cuts pushed the market up. Yesterday, the OPEC+ decision to reverse course and bring more supply online over the next 3 months (May, June, July) resulted in....surprise! The market going up!
The announcement on the OPEC+ production level change came initially around noon - normally we would see an immediate drop on the screens in the event of a production increase announcement.
So why not yesterday?
It seems the sentiment is that the sudden reversal is a strong vote of confidence for global economic recovery and a resulting surge in demand, and that confidence, along with some hopeful signs of demand upticks (resuming air travel, refinery utilization increases, import resurgence) is supporting higher price levels.
This morning, the first jobs report published under new Labor Secretary (Boston's own!) Marty Walsh showed a surprising uptick in jobs. Non farm payrolls shot up 916,000 jobs (analysts had predicted 675K), and the unemployment rate dropped to 6% (last April the unemployment rate was 14.7%).
The markets were closed today in observance of Good Friday so we were not able to see the reports full impact, outside of some upticks in bonds, but it would seem to support the optimistic stance taken by OPEC+ regarding economic recovery. Major economic indicators are still up in the air however, and while countries are making progress with vaccinations and easing of restrictions, we are certainly not "past" COVID as of yet, so optimism should likely be tempered with some caution.
In terms of the numbers, yesterday Crude closed out at $61.45/bbl - surprisingly tight to the close on the last day of trading in February despite March's volatility (last day of Feb trading Crude settled $61.50). April 1 close for ULSD on front month trading was $1.8316 (+.0618) and gasoline was $2.0223 (+.0626).
Stay Tuned!
Read More