We are now a year removed from Russia's invasion of Ukraine, and like many times in the past, we seemed to have made it through an extremely volatile period. Since the onset of this "new normal" we have stressed the need to have a strong relationship with your supplier to help navigate the ever changing landscape. Recall that we said the $2.65 level for the ULSD contract is a key support level, we have now hit that four times and bounced off it (see below) and the market is truly searching for direction with a $.25 range the last few weeks.
A bevy of news is swaying the daily and intraday moves. Russian price caps on crude sales, on the surface, appear to working as they continue to find more means of revenue to fund what looks to be a prolonged campaign. Yesterdays Inventory report, while mixed, showed a staggering 22% increase in Crude exports over last week and almost 50% over last year. All while adding 1.2mbls to our own inventory. Many point to China as the main destination with their manufacturing activity exploding last month to levels not seen in over a decade. Largely due to a catch up period from the removal of the zero tolerance COVID restrictions, the country is in need of any and all barrels.
In the US, while our manufacturing activity slowed in FEB, it was less than expected and at its highest rate since OCT22, signaling rate hikes are working and brighter days to come. This pushed markets higher even as Distillate inventories gained 200k bbls last week and demand was down over 14% from last year which is somewhat concerning.
In what has been a fairly uneventful winter season, the Northeast is now in the midst of a cold snap with another round of snow expected in the coming days. Winter diesel is still the safe approach as it is still available for the next week or so, be sure to contact your Rep for area specifics.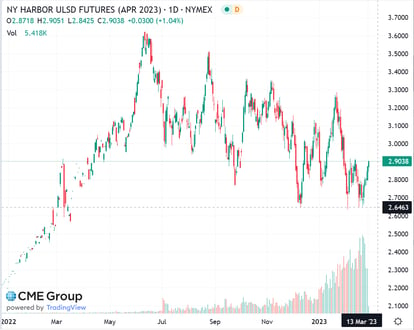 Read More