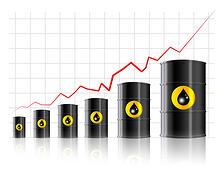 The NYMEX shot up again today, after trending slightly downward the past several sessions. Last week saw Brent over $65/bbl and today WTI settled out +1.50 to 60.75, over the $60/bbl benchmark we've all been watching for.
ULSD closed up +.0535 to 1.9989, while RBOB shot up over the $2 line again with a gain of +.0529 to settle at 2.0393.
Our friends at OPEC came out earlier this week to announce they saw no increase in oil prices on the horizon, given they see no decrease in production, and denied reports that there was consideration of reinstituting production quotas to boost prices. This pumped the brakes on the rally temporarily, and resulted in a pummeling of energy stocks in the S&P in the process - most notably Exxon and Chevron shares (Both companies saw gains today, however, on the price reversal).
So what happened today?
Most analysts are crediting a weaker dollar in combination with the monthly drilling report that indicates some slow down in shale production domestically. The EIA projected that output from major shale plays will drop by some 86K bpd in June.
Analysts also expect to see draws in crude on tommorows EIA inventories report, which is almost always good for a few cents worth of upward pressure on the market - at least if they are correct, that is.
Outside of drilling and supply concerns, we once again saw resumed airstrikes in Yemen on the same day a cease-fire was to be discussed.
Deja vu, anyone?
Stay tuned!
Read More