Crude - both Brent and WTI - continued to drop today on speculations of another inventory build on tommorows EIA report. According to a Bloomberg survey, tommorows report may show increases of 1.8mbl up to 2.5mbbl. The prior weeks report (the tenth increase in a row) indicated US Crude inventories climbed to 385 million barrels, the highest on hand since November, with PADD 3 numbers (Gulf Coast) hit over 200 million barrels, the highest since 1990.
Additional domestic factors in the market drop is an anticipated failure of US Manufacturing increases to meet projected gains. Internationally, China is showing a drop in manufacturing index to below 50, signaling a contraction in the sector. Euro zone manufacturing is expected to show stagnant to weak numbers as well. Overall, global economic indicators are not very confidence inspiring, and in combination with increasing supply, and the impending end of the heating season in the US, we should see the market continue a downward trend, assuming EIA reports back speculative numbers.
Last week's jobless numbers saw an unanticipated drop of 10,000 initial jobless claims. It will be interesting to see what this Friday's numbers look like - a continuing downward trend would be a positive economic sign, but time will tell what the overall impact will be.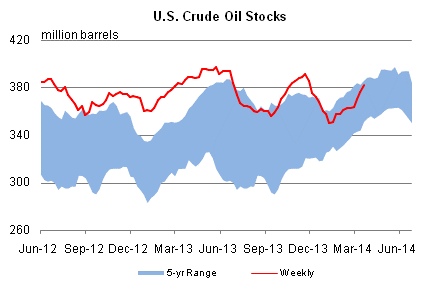 (Image Credit: EIA.gov)
Read More