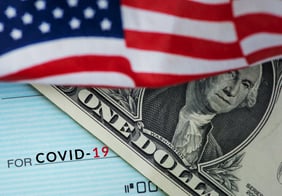 Today we opened up slightly on the NYMEX, and the big drops kicked in around 11am, (up to almost 3% on WTI temporarily) when Speaker Pelosi announced that they expected "pen on paper" for a second round of stimulus packages. The announcement came as somewhat of a surprise, as much of the activity on the second stimulus as of late has involved blocking, show bills, and discussions of everything being postponed until after the Election (and other typical political maneuvering).
The other factor lifting hopes and the market today was the jobless claims number released this morning by the US Department of Labor, which put new weekly jobless claims in the US at 787K, much lower than analysts expected. (Projections were 870K+ new claims would be filed, so the report was MUCH better than anticipated)
At the Close, ULSD gained .0208 to 1.1607 (Dec: +.0211 to 1.1687), Gasoline was up .0078 to 1.1581 (Dec +.0181 to 1.1452) and WTI was 40.64 (up about 2%).
Wednesday we saw prices slide, largely due to the EIA inventories showing massive builds in gasoline (+1.9 mmb), and lower production than the prior week - both of these indicate a continuing drop in gasoline demand domestically and were more than enough to overwhelm the slight draws on Crude also reported by the EIA.
Overall, the demand outlook seems to be pretty grim globally for the short term, particularly as COVID-19 cases continue to trend upward in the West, so it remains to be seen how the markets will play out. If job numbers continue to improve and there is movement on stimulus, it could signal continued upticks in pricing based on economic outlooks improving.
One of the wild cards at play however, is COVID-19 and more specifically, it's impact economically and on global oil demand. We saw Ireland become the first European nation to return to lockdown today, and if that becomes a continuing trend, it's hard to see the market maintaining optimism about economic recovery.
We will have to wait and see how it shakes out over the next several weeks.
Stay tuned!
Read More