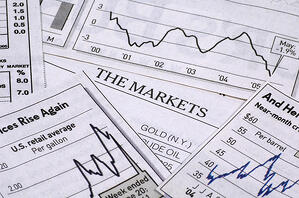 Goldman Sachs has revised its projected oil prices for 2015 to $75/bbl for WTI and $85/bbl for Brent Crude, in response to ramped up supplies and slow projected global economic growth.
Production from the US, Brazil, and the Gulf is projected to increase almost 1 million bpd, combined, and OPEC production is assumed to remain more or less stable - with gains in Iraqi production and drops in Libyan output essentially cancelling one another out.
Like wev'e talked about, OPEC may curb production to offset the decline at some point, and analysts seem to think 75 may be the price point at which US shale production slows and spurs OPEC to drop production. Its unlikely they will make major moves until US production shows signs of slowing against low margins, or thats the prevailing theory, anyway.
Oil was down today on that and other ho-hum economic news, and stocks fell in tandem. Europe settled 2.2 billion in bond purchases today in a preventative move against deflation, and the re-election of Brazilian President Rouseff reversed the hope some had that the country would move in a more positive, business-friendly direction.
On the NYMEX, ULSD closed off -.0066 and gas settled out at 2.11702, down -.0115 for the day.