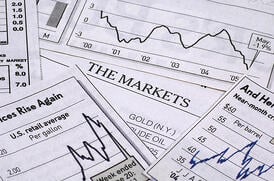 Thursday saw prices tick up after it was reported that the Saudi's output dropped from 9.69 million barrels to 9.36 million barrels. There has been some chatter and concern around the scheduled OPEC meeting in November. The concern being that OPEC will push curbing supply to stop the price declines we've seen in recent months. Brent Crude was up 3% on the news, the highest its been in 4 months.
However, despite the OPEC chatter, the Saudi's have said they will keep output at scheduled high levels even with lower pricing to maintain market share. Additionally, reportedly only a small number of members have suggested supply curbing.
US Inventories surged on this weeks EIA report as well, up 7.1 million barrels to a little over 377 million barrels, which was about twice what analysts predicted, and hopefully helps to calm some of the potentially unfounded fear of OPEC that's pushing volatility.
If we look back, the 20% drop in crude pricing we've seen over the past several months have been directly related to an abundance of supply, and with US oil production surging ahead, and the Saudi's not indicating they will initiate any sort of hold back to drive prices up, the situation remains the same and the volatility should back off. However, it's possible that some roller coastering will remain until after the meeting, when its officially settled whether or not we have to worry about supply curbing.
The market seems to concur today, though, with both Brent and WTI trending back downwards.
ULSD & RBOB are trending down on the NYMEX today as well, down about a penny and a half on both at the moment. Both products closed up significantly yesterday - ULSD +.0256 to 2.499 and gas up +.0513 to 2.2069, which effectively cancelled out Wednesdays drops of .0398 and .0578, for those keeping score at home.