Futures markets appear to be content with being rangebound as the last month has seen us bounce back and forth by about $.25 in Diesel. The last four days has seen diesel futures fall almost $.15 in value.
While the Distillate inventory report this week showed a slight gain of 200k barrels, the real news was in demand. Distillate demand dipped about 8% from last week, which is down almost 23% from this time last year. Demand and FED interest rate adjustments appear to be top of mind for most. With the FED Chairman stating that recent economic data was stronger than expected, he alluded to the fact that more rate hikes will be necessary to calm inflation. Traders took this as a sign that it will limit growth and subsequently, demand, thus the sell off.
Still, outward diesel months are hovering around that $2.65 level we talk about, but even more interesting is that Backwardation (outer months being cheaper) has been all but erased for the second and third quarters. (see strip below) As we transition back to summer diesel, the hope for most of us is a less volatile market. Unfortunately, we have seen too many times a spike follow what appears to be a calm period for any number of fundamental or technical reasons. Having a supplier versus a marketer is, and always has been, the best course of action in dealing with volatility.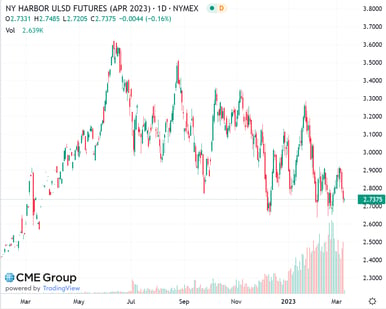 Read More