What you are seeing on your nightly pricing is real, unfortunately. ULSD futures have risen over .80 in just 5 sessions. Since late November 2021, when the concern of the latest Covid Variant were announced, the pit has risen over $1.65.
As we all know that leading driver is the uncertainty surrounding the Russian- Ukrainian ordeal. Financial Sanctions on Russian assets, banning imports, along with OPEC+ group not willing to increase production has attributed to the fear spike in the markets.
There is a bright side.
Front Month ULSD is presently trading at the $3.60 level… however, if you look at the outer months, such as JUL & AUG, they are in the $3.00 range. This is a .60 backwardation in the market. In all my years, which has seen Hurricanes, Wars, Attacks on US Soil, I have never seen this large of a backwardation. As we all know, there is typically a "carry" in the markets where outer months are typically higher. This is a very good indication that we are in a short term situation. Its just a matter of getting through this. I am sure we are sick of the phrase "WHEN THIS IS OVER"! but....
Below you can see the live market chart along with last nights settle highlighting the backwardation.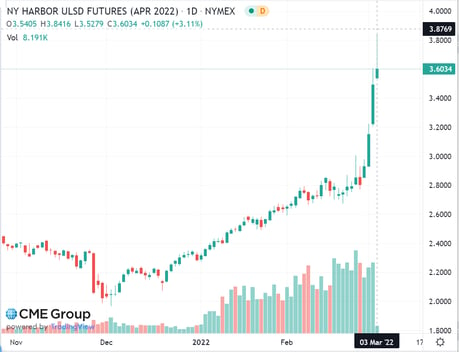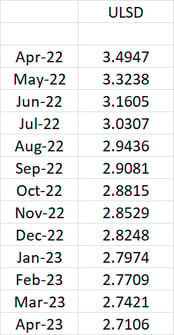 Read More