We have been saying for several weeks that the distillate inventory picture is not the brightest, even more so in New England. The news cycle has taken hold of this, and judging by the number of calls and conversations I've had in the last week, it is starting to sink in.
We currently sit about 20 million barrels below last year of distillate inventory. The chart below shows a five year picture and very infrequently would we dip below 120mbl of storage.

With winter approaching, and New England the primary consumer of Heating Oil, the fear is there will not be enough to go around should there be an extended period of cold. Moreover, if power plants get curtailed from using Natural gas, the alternative source is diesel fuel.
Courtesy of NEFI, the winter temperature outlook shows the Northeast to be in the third year of a La Nina pattern and that typically means a warmer than average season ahead of us, albeit with a colder December to start.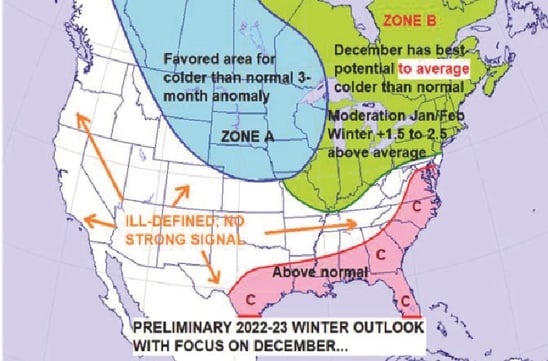 Exports of Distillates continue to be robust, as we are sending about 1.2mbl per day overseas. Last week we mentioned that quick relief might come in the way of releasing finished product reserves into the market instead of unfinished crude. That has fallen by the wayside over the last several days, as this is a market condition and not a physical event, like the last release during Super Storm Sandy.
Government officials have been quoted as saying "nothing is off the table" in terms of a solution and we have now seen another idea floated which on the surface makes sense. It has been suggested to relax the sulfur specification on distillates to allow shuddered refining equipment to come back online, thus boosting production and requiring products to remain domestically.
Years ago, refiners chose not to invest into units in order to produce the ultra low sulfur products we use today (15ppm vs 500ppm). Opponents say that the turn around time would be too long, and not the quick fix we need.
Price action continues to be extremely volatile, and I would expect that to stay through the end of the year as the backwardation in the market remains, limiting any excess or "rack" gallons to be available. Again, having a supplier with a redundancy of contracted supply options and the means to get you product will get you over this hump and better positioned in the future.
Read More