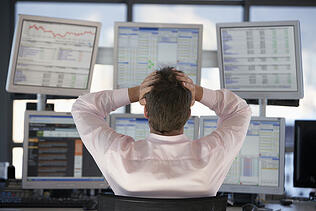 Oil markets were tumbling well before the open today, and unfortunately we didn't see that turn around at all through the course of the official trading day.
At the open, we were down -.2076 on ULSD, and -.2362 on gas and it only went downhill from there.
At the close, Crude settled at an incredible $31.13/bbl (down 24%!!), ULSD dropped -.2223 to $1.1629 & RBOB dropped .2521 to $1.1369.
Stock markets took a pounding today as well, dropping precipitously enough for trading to be temporarily halted when the Dow Jones Industrial Average dropped over 2,000 points after the open this morning. (Both the S&P and DJIA are down over 6% as of writing)
So what's going on?
In response to Russian refusal on the proposed OPEC production cuts, Saudi Arabia has completely changed course on cuts and announced they will not only be pumping at capacity starting April 1 (upon the expiration of the current cuts) but they are also additionally discounting by a reported 4-8 $ per barrel, with preferential pricing going to the US & Europe.
The move is meant to undercut other producers across the board - somewhat reminiscent of the strategy employed to attempt to push out U.S. Shale production back in 2014-2016(ish) and retain market share at the expense of other producer nations (refresher/throwback on that here: 2015 - backstory on that strategy impact on Russia back then here as well: 2016 )
The thing is though, the math has changed substantially on both the Russian & US fronts in terms of capital on hand to withstand the drop in the case of Russia, and production cost and infrastructure in the case of the United States, so it will be interesting to see who blinks first. It's unlikely to be Russia, they announced they can withstand $25 oil for 2 years. (whether that is true or not remains to be seen)
The second half of the equation today is that the ongoing Coronavirus outbreak is seriously dampening both global economic expectations, and oil demand. In particular, as US cases rise, concerns rise as well on economic impacts. Fear of the virus becoming a full on global pandemic are also in play now as Italy made the move to quarantine an entire region this weekend in an attempt to contain the spread.
Basically, falling oil prices and falling demand paired with virus induced low global economic growth is igniting fears of a recession. In particular, the US, who has recently become a major producer and net exporter, could feel major impacts that we are not used to.
Again, it's anyone's guess if we are seeing the bottom or not yet or how long it will take for the factors involved to reverse course. In the mean time, stay tuned (and wash your hands!)
Read More