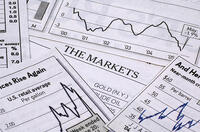 Continuing fallout over the downed Malaysian jetliner led to increased international tensions today (deja vu?). Russia called US accusations that it supplied the anti aircraft missles responsible "groundless". President Obama insisted that Russian involvement warranted further sanctions by Western nations. And thats what we saw happen this afternoon - Canada issued new sanctions targeting financial and energy related companies (much like the US sanctions from last week) and instituted travel bans on certain individuals.
Brent was obviously up on the news and continuing tensions that undermine stability in the markets and international relations in general. WTI was up today as well. ULSD closed up a whopping 0.0448 to 2.9157, despite distillate inventories hitting 125.9 million barrels (up 1.64 million barrels) . Gasoline took an unexpected jump as well today - after initially hanging flat to slightly down this morning and closing down 0.0233 yesterday. Inventories have been up on gas, while demand is uncharacteristically low for mid-sumer (aka mid driving season). In fact, gasoline inventories hit a four week high - but demand hit a 6 week low, and prices still went up. Funny business.
Additionally, its just breaking this afternoon that Israel has rejected a cease fire proposition brokered by the US, so expect ongoing turmoil there for the time being.
In the broader markets, - stocks slid basically across the board globally, with the exception of the S&P 500 and the Shanghai Index. US Treasury Yields were down and the dollar was up after dissapointing durable goods order numbers - poor numbers on durable goods indicate that there is a lack of capital expenditure still ongoing which is presumably due to a lack of confidence in the stability of the economy.
All in all another busy week with a lot of balls still in the air, and next Friday we can expect the Jobless Report, and the Fed makes a scheduled announcement on their continuing direction next Thursday,,,,, in other words the saga continues!
Have a great weekend everyone!
Read More