Depending on the News outlet you watch or read, you will hear two very different narratives. The one where "prices rises as Idalia makes landfall"….. or "soft demand figures push futures lower." It really a tale of two products right now between gas and diesel.
Gas is more consumer centric while diesel is tied more to the Industrial world. One is rising while the other is starting to fall. Quick note, hurricane Idalia had little to no impact on any petroleum facilities in the Gulf or in the Mid-Atlantic, just more of a news gimmick to grab your attention.
Consumer spending, thus gasoline demand, has been surprisingly resilient this Summer, as many of us thought that demand would crash as unemployment rose. That really hasn't happened and hints that the FED may still raise rates one more time are starting to come out. While gas futures have risen roughly $.60 since the beginning of summer, it doesn't compare to the over $1 rise seen on Diesel. Diesel has had an unconventional run this summer. Soft demand and varying inventories have kept pricing elevated for reasons I can not understand. The last three days have shaved off almost $.20 in pricing and I would like to hope we are starting a nice correction in the coming weeks.
Keep in mind, as the front months retreat, it will not be as pronounced in the outer months. For instance, yesterday front month ULSD dropped $.11, yet MARCH24 ULSD only fell $.01. Steep backwardation has reemerged in the diesel pit, next summer pricing is roughly $.40 lower than current.
Two thoughts remain, will this prevent some from bringing in product again and see outages or suppliers sitting on the sidelines and also does this represent a buying opportunity for next summer needs? We will have product for sure, and we are always willing to talk on securing some pricing. If you want to schedule a meeting to discuss your specific needs or questions, you can do so here: Schedule a Meeting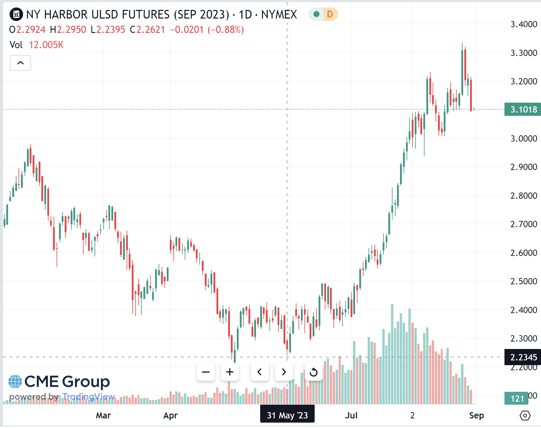 Read More