Wild Intraday Swings on ULSD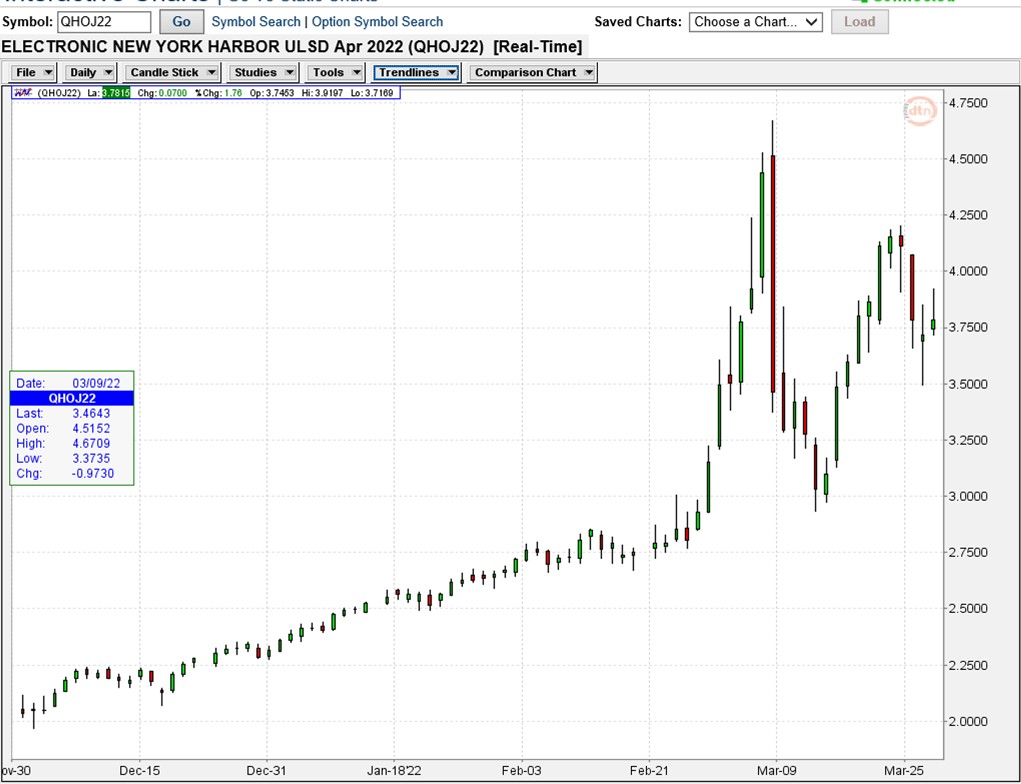 The last three sessions have seen .4373 get peeled off the ULSD front month contract, with massive intraday swings. Yesterday at the open, APR22 ULSD fell almost .25 before rallying back to finish down only .0673.
The big drop on Monday was attributed to China locking down Shanghai amid new outbreaks for a minimum of four days thus putting demand fears into the market. Tuesday saw traders take into account that there appeared to be progress in peace talks amongst Ukrainian and Russian delegates, but that subsided as the day went on. This morning that sentiment furthered as it appeared there was nothing to report on the situation other than both sides would agree to meet again. It is clear that many sanctions that have been put in place, may have a longer stay even if there is a withdrawal.
Pricing is wild right now, cash markets are making it even more challenging.
The Chart below doesn't do much other than confirm Warren Buffett's take "that if you flip it over, it says the same thing."
With Demand appearing to take a hit in this week's DOE report, and subsequently Inventory rising, products have come off there morning highs by about .15 and are only up about .04 at present. On a positive note, most OPEC nations have come out and stated the they would not let Politics get in the way of production levels, which may calm supply fears, evident in the .32 backwardation APR to MAY.