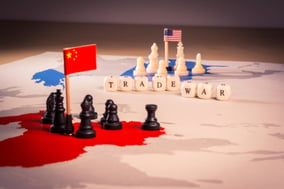 The NYMEX tumbled back down today, erasing Friday's rally. At the close, ULSD shed .0546 to $1.8356, and RBOB dropped .0635 to $1.7180, with Crude closing at $54.69, which puts us back in the territory we saw on Thursday, essentially. (We were $1.8529, $1.7499 and $53.95 at the close Thursday after record slides).
The NYMEX wasn't the only market down today, as global stock markets slid on US/China trade war tensions.
So today, China threatened retaliatory action after the Trump Administration did not back down from tariff imposition threats. And then (stop me if you have heard this one before) Chinese currency hit suspicious new lows against the US dollar, which prompted renewed accusations of currency manipulation on the part of China by President Trump, which didn't sit well with Wall Street, who is looking for any sign of hope that tariffs and a potential full on trade war are not looming on the horizon....And then everything tumbled across the board, from the Dow Jones to the Nikkei. Phew.
Bank of America also announced today that should China choose to purchase Iranian oil in response to US Tariffs, we could see oil tumble to "$20-$30/bbl" (although they did not revise their 2020 prediction of $60/bbl). The decision to purchase from Iran would serve to both weaken the impact of US backed sanctions on that country, as well as take a substantial amount of the impact out of the tariffs imposed on China. However, the move would not be without consequence, as Iran would be stepping outside the agreed upon production cut strategy in the region and that would likely not go over well with their neighbors (particularly Saudi Arabia) and would essentially force a heavier partnership than China may be interested in maintaining.
On the fundamentals, supply is still vastly outpacing demand, and economic indications continue to suggest that global demand will continue to soften. Whatever does or does not happen in terms of shorter news cycle events - seized tankers, trade disagreements, etc, the fundamental supply/demand levels will ultimately dictate a large portion of where crude & refined products settle out.... at least until another short term cycle event throws a wrench in the gears.
Stay Tuned!
Read More