The wild ride continues as in just under two weeks, we have erased $.50 of value on the futures market. Front month ULSD fell $.1937 yesterday setting us up for a test of key technical support levels.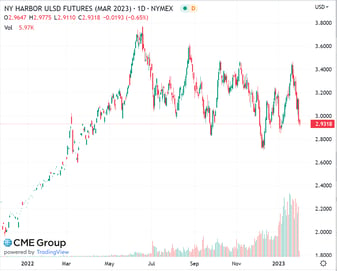 As we thought, we are now firmly under the $3.00 mark, and eying more downside to follow. Several news worthy factors pushed markets lower yesterday, none of which were attributed to Tom Brady's retirement.
The big news was the increase in inventories across the board yesterday with distillates adding 2.3mbl with exports falling slightly. As we mentioned previously, the trend appears to be taking shape as physical markets in New York Harbor fell even more as supply becomes more available. Additionally another small rate hike of 25 basis points by the FED appears to have put traders in a sell mode as inflation risk subsides.
We always have to look at the off Broadway news to get a real pulse of the market. Not widely reported on yet, the White House appears to be stepping back on drilling leases, as an agreement was made to allow a scaled down drilling plan on the Alaskan North Slope yesterday. This is a big reversal from a previous stance which I would imagine kept the sell off going yesterday.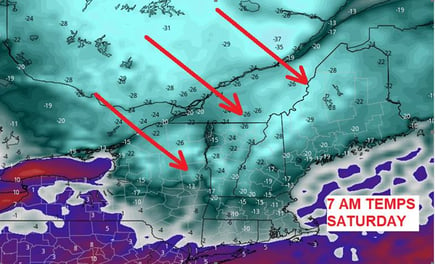 Even the most severe cold air entering the Northeast in several years could not keep futures from taking a nose dive. (see our update yesterday on best practices for your fleet). Largely seen as a regional event, if power plants get curtailed this weekend, it will likely show up in draws next weeks inventories.
Overall, it appears the our range is continuing to get lower, that is - when we spike, we don't spike as high as the previous. Q2 pricing is starting to look attractive again, but be sure to be in contact with your Rep as the markets are still extremely volatile.
Read More