We suggested last week that there would likely be sideways action in the market as everyone digests what impact production cuts will have, and that is exactly what has happened. We have seen large daily moves, but overall we are just about where we were a week ago.
For most of us, we are coming into our busy season, putting boats in the water, paving or landscape crews coming back, large summer construction jobs, or more runs added to the fleet. In my many discussions with customers, most are cautiously optimistic about the coming months. The top two topics are still People and Pricing. The Labor problem doesn't appear to be going away anytime soon as most of us are doing more with less, and for the most part, getting used to it. Pricing for physical goods has started to ease, but those "services" we all rely on remains higher (again because of the labor market).
Fuel pricing over the summer will likely be dependent on more fundamental forces than anything else as we appear to be at a comfortable price range. China's demand will be a major factor as currently Crude Imports are now at their highest level in over 3 years. Domestic Diesel demand, while falling slightly week over week, is still about 8% higher than last year. Physical fuel supplies remain in a delicate balance as a number of supplies try to navigate the stubborn backwardation in the futures market.
The Supplier-Customer relationship could be tested over the summer should a well timed Hurricane hit the Gulf. Spring is always a great time to do housekeeping. A fresh coat of paint on the fill covers, cleaning away any shrubs from tanks, making sure steps are secure, always helps us be able to serve you better.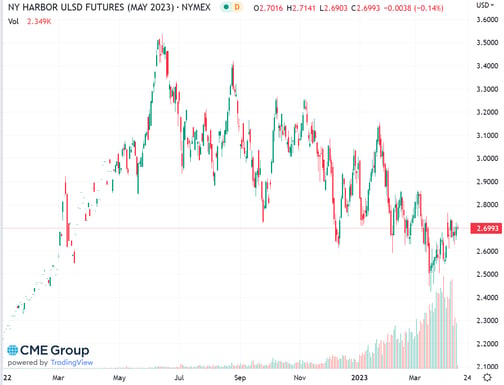 Read More