Unfortunately you are all reading your nightly pricing correctly. As seen below, ULSD prices have risen almost a full $1 in the last four sessions.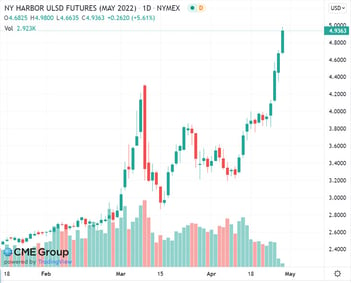 As I mentioned earlier in the week, it is likely due to a short squeeze versus anything fundamentally related to the Oil Markets. Although there are some pointing to distillate stocks being at their lowest level in 14 years as a driver, it appears that is being over played because demand for ULSD has fallen for the fifth week in a row.
Front month MAY ULSD (which falls off the board Friday) is a full $1 higher than JUNE trading presently at $4.9950. It is $1.50 higher than front moth NL @ $3.5250. Its important to note the disconnect to Crude which is "only" at $103 and change. For those of you that remember July of 2008, when Crude was at an all time high of $147, Diesel was trading just above $4.00. All the more evidence to point towards a squeeze versus fundamental factors.
The problem is, how long does this last? Looking at the strip above, the backwardation is still healthy out through December, not as pronounced but still present.
I would like to say that we are past this after Friday, but my feeling is the rocket ship-feather theory will hold true.
Read More