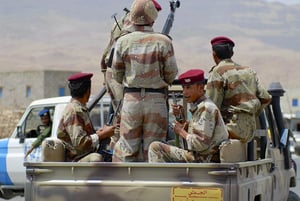 (Photo Credit: Dmitry Chulov / Shutterstock.com)
Brent Crude jumped over a dollar at opening this morning, while on the NYMEX, gas and diesel were both up over 4 before 10am. By noon both products surged up well over 5 cents, and products across the board continued to surge upward throughout the day.
At the close, ULSD settled out at 1.9239 (+.0531) and RBOB closed at 1.9956 (+.0711). WTI closed up 1.53 to 57.69.
So what's going on?
The Saudi's resumed airstrikes on target cities in Yemen yesterday, one day after supposed peace talks. Saudi Arabia is again calling on the White House to propose a diplomatic solution to the conflict.
Long story short, the deal in Yemen is that Shiite Houthi rebels have overtaken the Presidential palace, and if they can successfully pull off a coup, there is a very real danger of serious supply disruptions.
About 4% of global oil supply passes through the Bab el-Mandeb strait, which is controlled by the central government in Yemen, according to the EIA.
Traders are closely watching the situation for any indication of a resolution or escalation because of the potential supply implications involved.
Yemen also relies on exporting it's own oil resources, which have declined in volume significantly since 2001 as a result of internal fighting. Their economy relies on oil exports to the tune of 60% of their revenue give or take.
Essentially, not only would a rebel coup in Yemen spike oil prices on transport concerns, but would collapse the Yemeni economy and likely lead to repurcussions and fighting throughout the region.
Stay tuned, and don't forget to fill your car up before the increase hits the pumps!