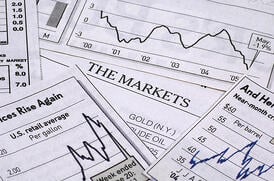 Today's EIA Inventory report for the week ending April 17th showed a build of 5.5mmb on Crude, but a drop of 2.1mmb on gasoline. Interestingly, even though analysts had projected a mere 2.6mmb build in Crude while the actuals were more than double that, Crude ticked upwards along side RBOB and ULSD initially before settling back down.
Stocks were up across the board basically today as well, on positive economic signs - 71.9% of S&P companies who have reported earnings have reported earnings above analyst expectations. Additionally, housing sector reports indicate a jump in existing home sales of over 6% for March versus February, which is also an 18 month high - a good sign for the economy and also a factor in pushing todays stocks up.
On the negative side, bombing resumed today in Yemen, precisely ONE day after peace talks, which may or may not impact the markets tommorow.
At the close, gas retreated from the intraday high of +.0424 to close out at 1.9245 (+.0364) and ULSD closed up +.0176 to 1.8708, with Crude closing off -0.45 to 56.16.
Stay tuned!