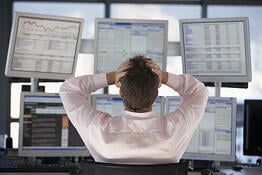 Crude slipped past the looming $60/bbl benchmark this afternoon, as pricing surged over $2/bbl (~4%). Prices have been largely supported the past several weeks by looming Iranian-US tensions and price level support from the continuing OPEC+ production cuts.
Today's surge was the result of the perfect storm of, well, an actual storm, and unexpectedly high Crude inventory draws announced by the EIA.
This morning several major oil producers announced they were beginning evacuations of rigs and halting areas of production along the Gulf of Mexico ahead of an impending tropical storm expected Thursday into Friday. (According to CNBC, who has a fantastic piece being continually updated with info on everything happening in the Gulf & the market impacts that you can read here: CNBC )
The EIA Inventory report this morning showed Crude draws of 9.5mmb, well above the anticipated levels (expectations were that draws would be around the 3mmb range, so they came in at over triple expectations, essentially). Gasoline drew down 1.5mmb, and distillates showed builds of 3.7mmb. Those distillate builds did little to slow the across the board impacts this afternoon, and refined products closed up right along side Crude.
At the close, Crude closed out at 60.43, ULSD was up +.0804 to $1.9910 and gas settled up +.0783 to $2.0052
Read More