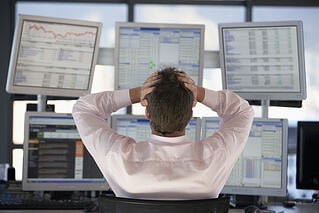 Yesterday, Crude briefly dipped below $30 per barrel for the first time in 12 years, before closing slightly over at $30.34. Crude was up on the overnights, as a result of the API forecast projecting draws of close to 4mmb.
The EIA report this morning, however, quickly reversed the market trajectory when it showed a build of 230K barrels. A modest increase, but the market registered it as significant in the face of the projected draws - at least initially.
At the close, Crude was essentially flat, up slightly to $30.48/bbl.
Despite the slight edge up today, so far Crude is still down almost 15% since the end of 2015.
On the refined products side, analysts correctly projected builds in gasoline - sort of. The expectation was a build of 1.6mmb but EIA data indicated an astounding build of 8.4mmb which sent RBOB tumbling, especially as it comes on the heels of last weeks 10.6mmb build.
On top of product builds, gasoline consumption is down a little over 4% compared to this time last year, which is also weighing on RBOB. At the close today, gas was down over 3, settling out at $1.0528.
Two weeks ago the debate was would RBOB break $1.10 - now it looks like the question over the next week or so could very well be "will RBOB follow ULSD below a dollar?"
Distillates showed a build of 6.1mmb as well, and this on the heels of ULSD dropping below $1 on the screen, following its drop on the cash markets. Tuesday broke the $1 level - closing down .0248 to $0.9901, and today ULSD shed another 2 to settle at $0.9694.
In addition to the build, distillate consumption was reported as being down 12% versus this time last year, partially as a reflection of the precipitous drop in heating oil usage due to our unseasonably warm weather.
On a macro level, the Chinese economy continues to stumble, and US stocks continue to get battered as they essentially have been since the opening bell of 2016. Today, as of writing, the Dow is down over 300 points, the Nasdaq is down triple digits as well, and the S&P is officially in correction.
Additionally, as mentioned before, the ongoing standoff between the Saudi's and Iranians after severing diplomatic ties ensures that at least for the time being, OPEC production will remain at record levels. Add in the unseasonably warm weather and the drops in demand/consumption across the board, and all of the sudden that "crazy" projection by some that we could see oil in the $20's doesn't seem so crazy after all.