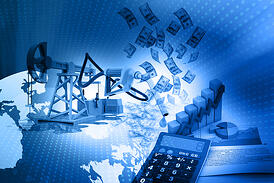 As we head towards the end of 2018, it looks like oil prices will finish the year out down about 20%. We saw wildly fluctuating energy markets throughout the year, but the fundamental factors of supply and global economic growth concerns kept the downward pressure on pricing over the long term.
Let's look back at what went on this year and what we are keeping an eye on going forward.
In 2018, the United States stepped to the forefront as the world's largest producer of Crude oil, outpacing both Russia and Saudi Arabia.
Late in the year, Saudi Arabia and Russia, along with other OPEC and OPEC partner nations, agreed to production cuts starting in 2019, but Russia had a record production month in December, so time will tell if the unofficial deal bears out.
Worth remembering, is the US has no involvement in the supply curbing that is the so-called "OPEC+" deal. Historically, we have seen the Saudi's reluctant to cut output long term for fear of losing market share.
This becomes even more relevant today than it was two years ago, as US output increases and the US becomes a net exporter for the first time in 70 years.
Essentially, the US has gone from an esoteric threat to market share to a very real one, and there is reason to believe that this may affect how the OPEC+ agreement is adhered to (or not) through 2019.
Another factor that can affect day to day swings on the NYMEX is the performance of the stock market. As we're all aware through this year the market was hitting all new highs, then crashing, and generally bouncing around (the analysts are writing off this weeks one day gains as a "suckers rally" – ouch!). Stocks obviously are impacted by both the at-large economy and the ramifications of political actions and their accompanying sentiments.
To put it politely, the US political arena right now is very... let's call it "exciting", so it would probably be wise to anticipate an ongoing roller coaster with stocks – what we don't know is how that could carry over on energy pricing in the long term.
The other ball in the air is the current Government shut down – prior shut downs were less than devastating in terms of any significant or lasting price impacts on energy – however, we wont know if that is the case with this one until it's over. Right now there is know way of knowing how long the shutdown will last, obviously the longer it goes on, the more impact it has on federal employees, programs, and citizens. When it will end is anyone's guess.
Lots to keep an eye on as we round into 2019. Have an awesome holiday, hope to see you all in the New Year!
Read More