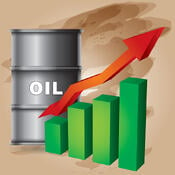 Last week as we discussed, the EIA reports for the prior week (ending April 11) saw inventory builds in US Crude supplies while gasoline inventories drew down. Crude Inventories actually hit their highest level since June 2013 and production hit its highest level since 1988.
Platt's is estimating that this Wednesdays EIA report (on the week ending April 18th) will show inventory builds of up to10 million gallons. As a result of the anticipated build, WTI has dropped more than we've seen in the previous 3 months. Brent Crude, the European benchmark, wasn't quite so lucky.
Compared to WTI's over 2% drop, Brent was down less than one percent on continued Ukrainian tensions (stop me if you've heard this one before...) and on the heels of Vice President Biden's speech this morning in Kiev, in which he expressed US support for Ukraine. The sentiment, though true, wasn't very helpful for the already fragile (read: falling apart) agreements with Russia to reduce friction in the area, especially coming one day after Secretary Kerry demanded that Russian Foreign Minister Lavrov control seperatist activity in Ukraine, with the Russians firing back that the US should intercede in to control "Ukrainian militia activity" in the region and today insisting that any agreements reached in Geneva "have nothing to do with us".
The global headache that is Ukrainian/Russian/US relations at the moment would likely have resulted in a lot of market volatility and price spikes, but consistently increasing inventory levels have seemingly kept it at bay, particularly domestically. Hopefully that trend continues, and we start to see some progress towards resolution in Eastern Europe.