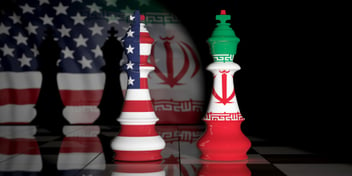 After starting the morning up on the EIA inventory reports of large crude draws (-6.9 mmb), the NYMEX dropped later through today's trading, as more information about the firing of US National Security Advisor John Bolton came to light, and as global demand growth estimates were revised downward yet again.
The reason an Advisor firing is at all relevant to the oil markets is: Iran.
There was speculation immediately that Bolton's firing was a good sign for US-Iranian relations, and as details emerge it seems that speculation was not only accurate, but an undersell.
Bloomberg is reporting that the Administration discussed easing sanctions in order to broker meetings with Iranian President Rhouhani and kickstart negotiations. Evidently the support voiced for doing so led to a blowout of sorts that prompted the firing.
Prices dropped almost instantaneously on the news that sanctions could potentially be eased on Iran.
Additionally, today OPEC's estimates for global growth demand were revised downward (but worth noting is that the revision puts their estimates in line with those of other analysts and economists already existent predictions). The EIA numbers were revised slightly down yesterday as well (down 100,000 bpd from the August prediction to 900,000 bpd).
Overall it appears that for at least today's session, the current market of OPEC cuts and US domestic crude draws did not outweigh longer term concerns about a potential future supply glut in the face of low growth demand.
At the close, Crude settled at $55.75/bbl, ULSD shed .0280 to close at $1.9032, and RBOB dropped .0209 to close at $1.5699
We'll have to see what happens tomorrow.
Read More